This year's AGM Meeting of the FIP-IFP organisation was based in Athens. For those attended by all countries it was an experience that will never be forgotten.
Making wonderful memories meeting each other and feeling comfortable through-out.
The meeting commenced with an opening report by the president of CPMA Joseph Stern giving details of the World Congress that will be held in Montreal, Canada 2016 as well as the next AGM meeting.
Reports were then given by the ECP association regarding Podiatric levels
determined by filling out a questioner form to allow future decisions on allowing new countries enter the associations. Along with this report was the report for an additional member referring to Christian Jerome to be part of the council. The report was no motioned that only 5 members were allowed to continue due to lack of explanatory on individual roles. In general report, the issue for this years AGM was on communication which has been promised to be more successful in the coming years. A voting was made for a new Secretary on the FIP council which Jose Claverol received the offer. Brad Sonnema was voted for another 2 years as treasury.
Report on Romania to enter FIP was given provisional entrance of one year and report of India to enter FIP was put on hold for further evaluation on their association which will be determined in 2016 AGM meeting.
Report on the next AGM meeting and World Congress will be held In Montreal, Canada 2016 starting from May 25th.
A closing statement was given by the president Carine Haemels emphasising to all that regardless our differences and choices we are all one family. And in that family we are all different with different needs, though, it is the general view that is impoρtant. The view of everyone working for the same.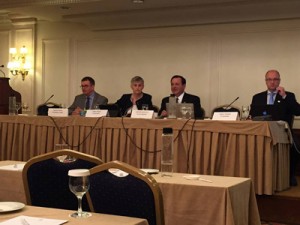 Carina Haemels, Matt Garoufalis, Brad Sonnema, Christian Jerome, Robert Chelin, Vincent Hetherington, Patrik De Boeck, Manos Arvanitakis, Nina Potouridi, Katerina Kalykaki